THE YOUR PROPERTY SUCCESS CLUB
High-quality Tools, Templates & Strategies At An Extremely Affordable Price!
YOU HAVE PROBABLY HEARD THE SAYING "LOCATION, LOCATION, LOCATION"?
LOCATION - LOCATION - LOCATION
They even created a TV show named after it, because of the exponential impact it can have on your investment.
In most cases, your location selection can have the single biggest influence on how much money you can make.
In every city there are dozens of properties for sale today that are undervalued and in plain view of everyone.
They are ripe for picking and profiting, but majority of the buyers overlook these golden opportunities, because they don't have the depth of knowledge to be able to identify them.
The key is to find these golden opportunities before everyone else does, because the sooner you find them, the higher the chance of a large profit.
If you know how the stock market works, then you know that the people who make the most money, buy a stock before the trend starts and before everyone else buys.
It's the same with property. You need to be able to spot a trend before it becomes a trend, if you want to get the maximum return on your investment.
But Isn't Trend Spotting And Location Selection Complex?
For most people it is difficult and very time-consuming, and this is exactly why I designed an easy-to-follow process that cuts the time in half and removes the guess work.
INTRODUCING: YOUR PROPERTY SUCCESS CLUB
The monthly training that feeds you easily digestible tips, tricks and strategies for:
Identifying Suburb Hotspots
Renovating for Profit
How To Start and Grow a Property Portfolio Quickly
Avoiding Losing Money on Bad Investments
Buying Properties Under Market Value
Guides to The Best FREE Property Resources On The Web
Checklists & Resources
Hello everyone, I just finished module 2. i was impressed with it - did everyone enjoy it as much as i did? i found the websites and tools very helpful. This process has helped me to understand how important a clearly defined strategy is and has even given me tools for reviewing my existing portfolio. I think this will save me a lot of time and energy.

Diana Hewitt
Very good. Jumped straight into the nuts and bolts of the module and it just kept coming. Fantastic!

Edward Mishuda
I loved the dot maps. I think this is valuable information and I think anyone listening/watching how you select a suburb will also find this information priceless if they have not seen the dot maps before. I think the dot maps are great for any renovator who is confused where to start.

Kate Parsons
Fantastic foundation to build on. I mentioned that I was really looking forward to assisting you here, and although I have heard a lot of this (from you) before, but it is great to have it in one, easily accessed place. Content, great, very high standard.
The most important thing to me was how to find where potential renters rent or purchasers buy, and where I should be purchasing according to my strategy (to buy and hold to rent, or to flip.)
I will be much more confident when choosing where and what to purchase. A very important factor when discussing large sums of money!!!!

Rachael Jay
Informative, easy to understand. Awesome.

Ben Coulter
Lots of information to digest, excellent quality, I don't really think you could improve it. I liked the way you walked through the websites and shared your observations on data. Will be hard to make the time to research well. Very High Quality.

Sue Cowie
And it all kicks off with the first month's module - Uncovering Australia's Property HotSpots
In this module, we cover:
How to Systematically Identify The Tell-Tale Signs That An Area Is About To Boom.
How To Ride "The Ripple Effect" To Outperform The Market.
How To Minimise Risk From The Beginning and Maximise Profits.
The Very Little Known (Free) Tool That Delivers Insider Knowledge Straight To My Inbox.
Why Diverse Economies Can Be Your Best Friend.
All laid out in an easy-to-understand format that you can access at any time.
In this first module, we also cover:
Why Rezoning Can Make or Break Your Investment.
How To Identify Location X-factors and Use Them To Your Advantage.
How To Use a "Dot Map" To Easily Identify The Best Suburbs To Invest In.
How To Predict The Growth Of Suburbs Over The Next 5 or 8 years.
How To Systematically Identify Suburb Supply & Demand and If There Are More Buyers or Sellers.
IT DOESN'T MATTER IF YOU WANT TO BUY AND HOLD TO BUILD WEALTH OR FLIP FOR A SHORT-TERM PROFIT...
This training will show you the strategies that I use today to identify the areas that are about to explode in price.
If you want to minimise risk and maximise your capital growth, then you can't afford NOT to have this training in your tool belt.
There are some people out there charging $6,000 for similar information, and I think that is unfair. I would prefer that you save some of that money to put towards investing in your next property
You see, making money through property is not just about how much you can sell for, it's also how much money you end up with after expenses.
I am a very risk-averse person and don't like wasting money on unnecessary things when it comes to property investment, and that's why I have created this high-impact low-budget training.
Starting with the first module, "Uncovering Property HotSpots", each month you get access to a short training where I give you bite-sized chunks of knowledge that you can apply to your property investing.
This is not theory-based information. This is down-to-earth training where I give you quick things to go and apply that will help you get closer to building a property empire.
Each month is different and may consist of:
Videos
Audios
PDF's
Transcriptions
And most importantly, the top tools I have used to acquire a multimillion dollar property portfolio over the last 13 years.
The Your Property Success Club Private Facebook Group
You will also be joining our community!!!
Yes you have the support of our exclusive community The Your Property Success Club private Facebook group.
The Your Property Success Club Facebook group is a thriving community of like minded property investors, who collaborate openly to support each other, ask advice, post pictures and have a lot of fun along the way too.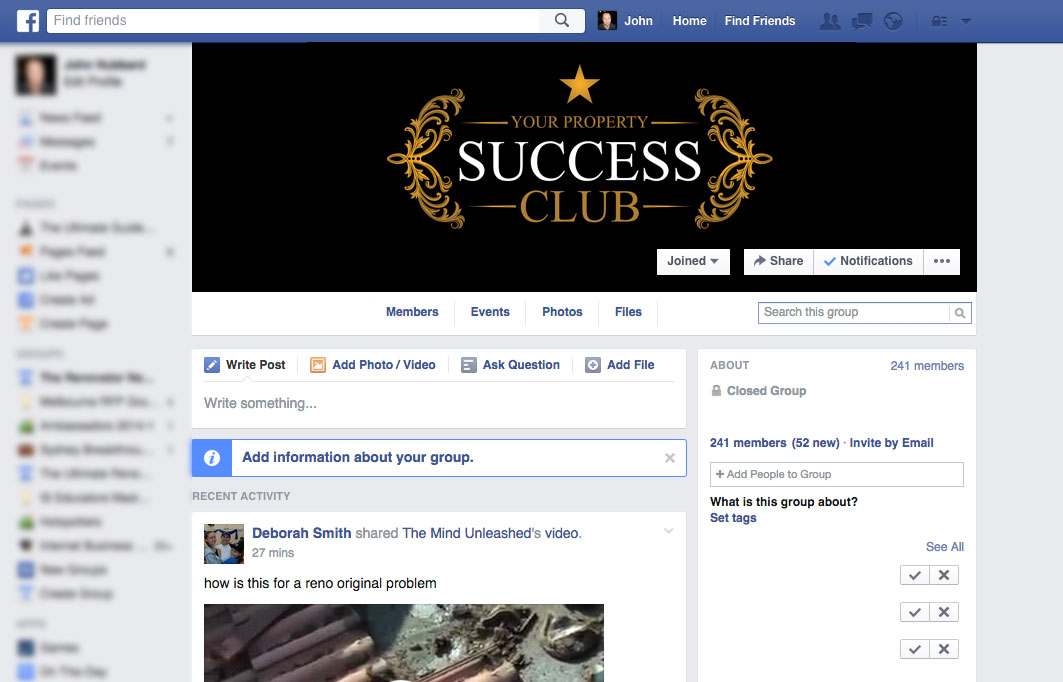 Month by Month
Join Now
PAY AS YOU GO In-depth Monthly Video Training (cancel anytime)
Access to Community & Private Facebook Group
Downloadable Audio mp3, PDF's & Transcriptions.
The Top Tools Used By Successful Investors
30 DAY MONEY BACK GUARANTEE
One Year - 40% Discount
Join Now
A FULL YEAR Of In-depth Monthly Video Training
Access to Community & Private Facebook Group
Downloadable Audio mp3, PDF's & Transcriptions.
The Top Tools Used By Successful Investors
30 DAY MONEY BACK GUARANTEE
But what if I only want the hotspots module?

That's completely fine.  Simply click 'cancel' at any time inside your membership portal and you won't be billed another cent.

Can I access these trainings on my Phone or Tablet?

You sure can! And we even have the audio from the videos so you can listen to the trainings anywhere at any time.

Do I need experience?

NO.
Your Property Success Club is designed to take someone with no prior experience and give them the knowledge to take on their first investment with confidence.
Great care has been taken in selecting the subject matter for this training so that information is presented in a clear and simple step-by-step manner.
The single biggest piece of feedback that we get from students who have completed the course is CONFIDENCE.

What if I don't own a property?

If you DON'T have a property yet – or even if you are a year or more away from purchasing a property –  this training is still for you.

This training will empower you with the knowledge of how to find the right suburb and the right property for your budget. It then shows you the methods that I have used to build a multimillion dollar property portfolio.

This training is all about evidence-based decision making that is already resulting in real profits with our students.

Do I need to own a property already?

The short answer is no…
If you DO already own a property, then that's great! This training will provide invaluable information on how to add substantial value to your property.
WHO THIS TRAINING IS NOT FOR
This training is not for you if you:
Think you have "seen it all before".
Have a negative attitude towards life or other people.
Think you know it all and there is nothing that Jane could possibly teach you.
Believe that only a select few people can achieve real success with property investing.
Or if you judge successful people with money.
This event is for you if you:
Have had enough of going to work every day and feel like you are on a treadmill going nowhere.
Have an open mind and want to build real wealth through property.
Are willing to listen and learn proven practical principles that have worked for thousands. You don't have to be creative. You just follow the plan.
If you like the idea of being able to earn a living from your properties anywhere in the world.
Or just want to pay off the mortgage.



Dear Jane, I've read your book, watched your online videos and accessed the awesome bonus material you provide.

Today, this has helped us secure an amazing investment property!!!!! Thanks so much for sharing your knowledge and helping our family secure our financial future.

We bought a 3-bedroom 1-bathroom property today for $460k in an area where medium prices for this type of house is $740k. It's dirty and smelly, but I'm so excited about what I need to do for cosmetic renovation.

So excited and motivated by your success. I hope my husband and I can follow in your footsteps.


Clare, VIC



Our property investing journey started 4 years ago. Over this time we have attended many seminars, read many books and spoken to a number of different businesses in search of a property advisor who sincerely has our best interests at heart in helping us build our property portfolio. This has been a long road to travel!

After discovering Jane in 2010, we finally felt we have found the person we've been searching for. She is also someone who has integrity and a passion for helping others.

Jane is knowledgeable, trustworthy and ethical, and we are looking forward to to learning more from her comprehensive and flexible education programs.


Simone, NSW
Month by Month
Join Now
PAY AS YOU GO In-depth Monthly Video Training (cancel anytime)
Access to Community & Private Facebook Group
Downloadable Audio mp3, PDF's & Transcriptions.
The Top Tools Used By Successful Investors
30 DAY MONEY BACK GUARANTEE
One Year - 40% Discount
Join Now
A FULL YEAR Of In-depth Monthly Video Training
Access to Community & Private Facebook Group
Downloadable Audio mp3, PDF's & Transcriptions.
The Top Tools Used By Successful Investors
30 DAY MONEY BACK GUARANTEE
MORE AMAZING SUCCESS STORIES AND FEEDBACK!
I have been an investor for a number of years now and I just wish I had discovered Jane at the beginning of my investing journey, as she has opened my eyes to new and interesting information and helped to clarify some grey areas that I was unsure about.
Although I am an experienced investor, Jane's methodology has given me a very clear step by step process to investing, almost like a blueprint, and I will be following this process for the purchase of my future properties.

Dean, NSW
Hi Jane, just to let you know that I'm project managing a renovation for a client now!! The project is almost finished and there is another client in the queue too!! Even more, I have already booked trades to renovate the unit that I bought with the help from you! What a busy year!!

January this year I did a mini renovation in one of my properties. I'm pretty sure there is at least 120K increasing in value because of the reno and the market. I will see when I should draw it.

I hope you share my pride because you have turned my life around. Thank you so much Jane.

Pam, QLD
WHAT THE EXPERTS ARE SAYING
"There are those among us who have unusual abilities. Jane is one such person. Her ability to inspire and educate us all to take the next step in developing a portfolio to provide for the future in easily understood language is unique. This book is based on her personal investment knowledge and extensive research. There is something each and every one of us can take from it."

John Edwards,

Founder and Chief Executive, Residex Pty Ltd
"Jane is the go-to person for no-nonsense information about property investing, finance and renovation.. Our listeners love her segments because she is different from other experts.  She's a straight talker and you just know she genuinely wants to help."

Kevin Turner,

CEO, Real Estate UNCUT & Real Estate Talk
"I have been in the property industry for over 13 years, and throughout this time I have been a property buyer's agent and property educator.  I have had the opportunity to see many property educators and presenters. Having co-presented with Jane Slack-Smith, I was very impressed with her authenticity and the ease in which she communicates complicated issues, making it easy for everyone to follow her low-risk investment strategies.  Sometimes those selling the mining tools make more money than those doing the mining.  Having reviewed the courses, I am delighted to say that I'm really impressed with the quality of content and all the extras she has thrown in, and importantly, at such an affordable price which means everyone can have an opportunity to access it!  This really is an incredible course (and I have seen many) and I encourage you to consider an investment in this program."

Bryce Holdaway ,

Co-Host, "Relocation Relocation Australia" on the Lifestyle Channel
Everything I teach, I completely believe in and stand by 100%, so if for some reason you don't think you get value for money, just send me an email to support@yourpropertysuccess.com.au and I'll organise a refund for you straight away.
Now you know there is nothing to lose and everything to gain, so let's get started on your journey to financial freedom. You get instant access to this training, so in less than 3 minutes you could have your logins to the membership site and start learning about the biggest factor that influences how much money you will make from property. So click the "Join Now" button, and I'll see you on the inside.
Month by Month
Join Now
PAY AS YOU GO In-depth Monthly Video Training (cancel anytime)
Access to Community & Private Facebook Group
Downloadable Audio mp3, PDF's & Transcriptions.
The Top Tools Used By Successful Investors
30 DAY MONEY BACK GUARANTEE
One Year - 40% Discount
Join Now
A FULL YEAR Of In-depth Monthly Video Training
Access to Community & Private Facebook Group
Downloadable Audio mp3, PDF's & Transcriptions.
The Top Tools Used By Successful Investors
30 DAY MONEY BACK GUARANTEE