It's all about trusting the numbers right? But what if the numbers are wrong or even biased?
In this episode you will learn the real meaning behind the numbers as we are joined by one of Australia's most respected property analysts, Louis Christopher from SQM Research.
Louis is on a personal mission to make high quality, impartial property data accessible to everyday Australians.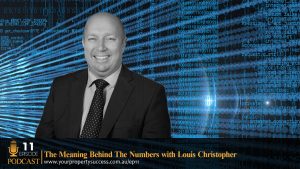 Please click here to get access to the Show Notes, Links, Transcript and much more.
One last thing, it would mean so much if you could take a moment to rate and review the podcast on iTunes 🙂
Head over to our podcast on iTunes  https://itunes.apple.com/au/podcast/your-property-success-podcast/id1130965213
On your iPhone or iTunes on your computer you can see Review under the picture on the left hand side – if you have an account you can Rate and Review us! 
Just in case you have trouble here is a doc that shows you how https://s3.amazonaws.com/YPS/01+Podcast/HowtoLeaveUsaRatingReviewoniTunes.pdf 
---