Today's very special guest is none other than author, speaker and co-founder of the 'Rich Dad' company, Kim Kiyosaki! Kim has some important things to say about taking responsibility for our own money… And shares how she and husband Robert Kiyosaki started Rich Dad Poor Dad from a car wash! You do not want to miss this one.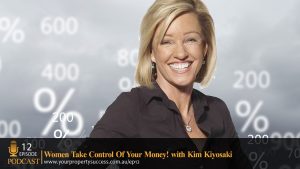 Please click here to get access to the Show Notes, Links, Transcript and much more.
One last thing, it would mean so much if you could take a moment to rate and review the podcast on iTunes 🙂
Head over to our podcast on iTunes  https://itunes.apple.com/au/podcast/your-property-success-podcast/id1130965213
On your iPhone or iTunes on your computer you can see Review under the picture on the left hand side – if you have an account you can Rate and Review us! 
Just in case you have trouble here is a doc that shows you how https://s3.amazonaws.com/YPS/01+Podcast/HowtoLeaveUsaRatingReviewoniTunes.pdf 
---