18 Feb

Be aware of hidden costs when purchasing a property

About the author
Jane Slack-Smith has been named one of the Top 10 Property Experts in Australia by Money Magazine, one of the Top 4 Financial Influencers by Qantas and been awarded the Australia's Mortgage Broker of the Year twice.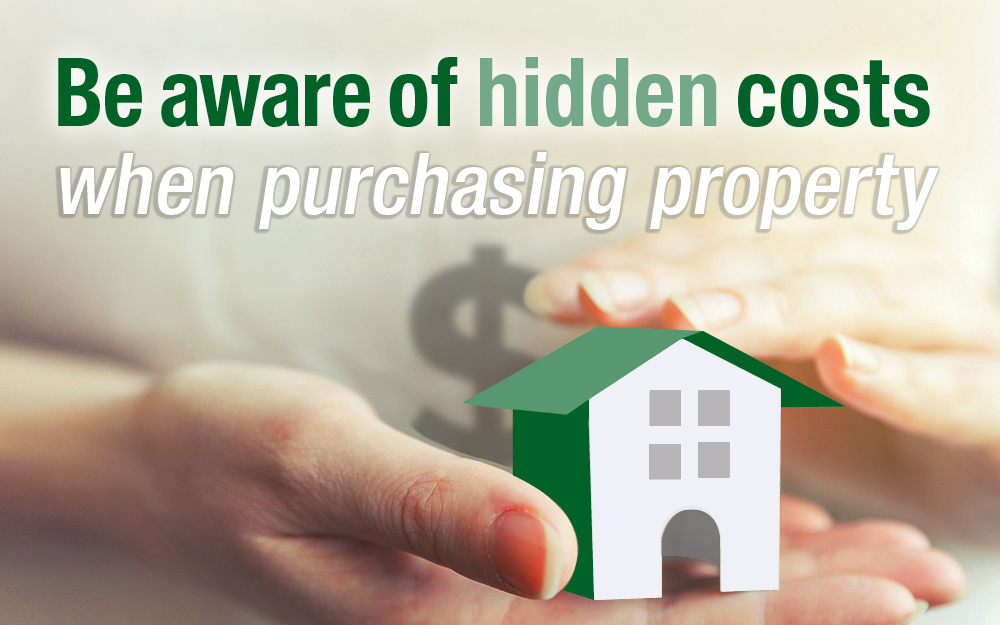 You're dreaming of your property – what it will look like, where it will be, all the happy memories you'll make in it. When saving to buy a new property, there is more to consider than just the final sale price.
There are a number of additional costs you should be factoring into your sums before making a bid. These costs add up and can make servicing your loan more challenging, so it pays to go into your purchase with your eyes wide open and a budget that accounts for the additional costs.
Stamp duty
Stamp duty is a state government tax which needs to be paid before settlement. It varies depending on which state in Australia you're buying in, and the amount you need to pay is largely determined by the property's value. There are various Government initiatives that you may be eligible for that will reduce your stamp duty bill, we can help you navigate these grants. There are online stamp duty calculators that will help you determine how much you'll need to pay, and the amount is often shown on property listings on such sites as realestate.com.au to help you budget.
Lenders Mortgage Insurance (LMI)
Lenders Mortgage Insurance is insurance for your lender in case you're unable to pay back the loan. It will need to be paid if you've borrowed more than 80% of the value of the property. If you're buying in a location that is deemed to be at risk of a large fall in prices, you may also have to pay LMI, even if you haven't borrowed as much.
There are also LMI calculators online so you can work out how much you will need to have set aside.
Associated mortgage fees
You will have fees for your mortgage, and these depend on which lender you are with and the terms and conditions of your loan. You will need to pay an upfront fee, with the average cost being just under $700.i
There may also be ongoing fees, as well as an exit fee should you want to refinance. We can provide you with more information about what fees you'll be expected to pay.
Conveyancing and legal fees
You will also need to factor in conveyancing and legal fees related to the sale. These services are crucial to buying a property, as a conveyancer handles the paperwork and the legal side of things, advising you on the laws and requirements you'll need to abide by as the owner.
A ballpark range for conveyancing/legal fees is $500 to $1400, however, this can be more depending on your property.ii
You can act as your own conveyancer, which can seem appealing as a money-saving tactic. However, be aware that trying to save money here could add complexity and hassle if you aren't well-versed in property sales, and may end up costing you more in the long-run.
Building and pest inspection
You may be required to have a building inspection so your lender can make an independent valuation of your property, and you will have to pay for this. The cost depends on the property's location (whether it's regional or metropolitan) and size, with the higher end (of a large, city-based property) estimated at around $1000.iii
And even if you're purchasing a new property or one that looks very well maintained, for peace of mind it's worth doing a pest inspection. If the property contains termites, it could cost thousands to repair the damage, while rats can chew through wires and cockroaches can breed very quickly. Pre-purchase pest inspections start at around $250 and can be combined with the building inspection for a slightly higher cost.iv
While these costs can seem daunting, being aware of the potential costs associated with a property purchase will help you more realistically plan for your purchase, without any unwanted surprises along the way.
i https://www.finder.com.au/home-loan-fees
ii https://www.openagent.com.au/blog/how-much-conveyancer-cost
iii https://www.canstar.com.au/home-loans/building-inspection-cost/
iv https://hipages.com.au/article/how_much_does_a_pest_inspection_cost