08 Sep

Communication counts when buying as a couple

About the author
Jane Slack-Smith has been named one of the Top 10 Property Experts in Australia by Money Magazine, one of the Top 4 Financial Influencers by Qantas and been awarded the Australia's Mortgage Broker of the Year twice.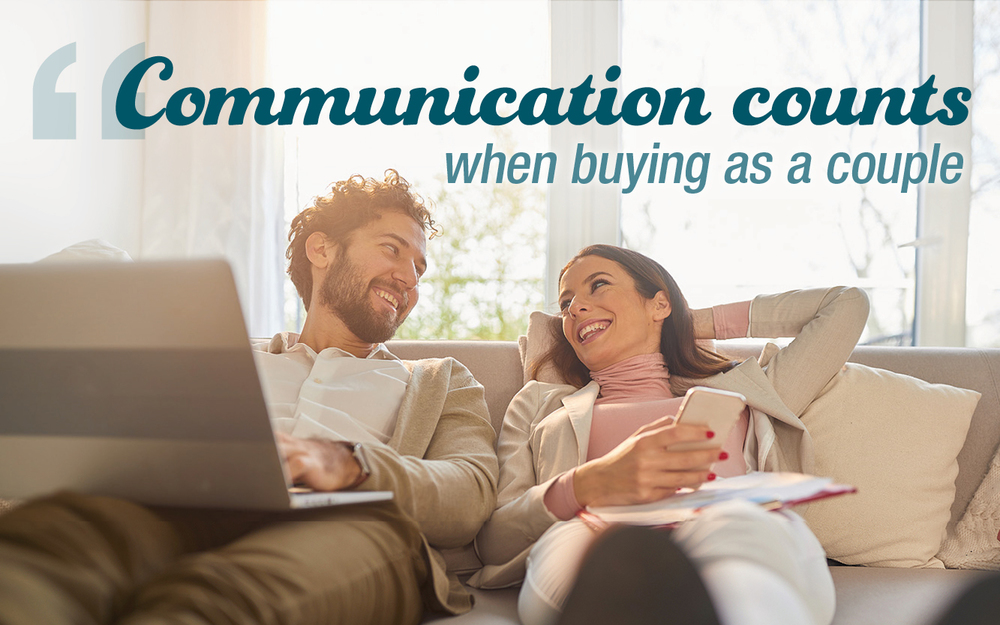 Buying a property with your partner is an exciting milestone. But before you start the endless rounds of open for inspections, it's a good idea to sit down together and have some important conversations so that you're on the same page from the outset.
It's fair to say that for most couples, money talk isn't a recipe for romance or harmony, which is why we tend to avoid it. In fact, 26% of survey respondents had not discussed their personal financial situation prior to committing to their current or most recent partner.i
Clearly, we need to be talking to our significant other about our individual and combined financial situation before making major purchases, such as property. There are also a lot of things you need to decide when buying property and the process will go a lot smoother if you have made some mutual decisions beforehand.
Choose a time when you will both be able to focus, not when you're rushing out the door or trying to get dinner on the table, and discuss the following:
The state of your finances
It's important to be open with each other about your respective financial statuses, as intimidating as that can seem, and to discuss the expectations for this joint purchase. How much can you afford as a couple, and how much will each partner contribute to the loan repayments and ongoing bills?
It's not uncommon for one partner to be more financially secure than the other, so you'll need to decide what is fair for you both in terms of expectations. Think about future possibilities too, such as whether kids are on the cards – if they are, maternity/parental leave can reduce your overall household income, in which case the other may need to chip in more financially.
Priorities when it comes to your new home
It's pretty important to agree upon your 'must haves' in a home before you commence the search and keep reviewing with each other as your priorities may shift over time. There are a number of things to consider – does one of you want a sprawling backyard while the other wants something easier to maintain? You want to be close to the action in the city, while they want a quiet spot further out of town?
How much work you're willing to put into the property is another factor, and this will help you decide if you choose a 'fixer upper' or a move-in ready home.
The ownership structure of the purchase
If the property is an investment, you'll need to decide whether it should be in one person's name (personal ownership) or both (joint ownership).
You might opt for personal ownership if you are in a higher tax bracket than your partner is, to maximise the benefit of negative gearing. Joint ownership enables you both to divide the tax benefits – you can be 'tenants in common' where the ownership share is determined by you both, or 'joint tenants' where ownership is equal.
What happens if the relationship breaks down?
It doesn't make for pleasant dinner conversation but discussing what happens if you two split is important. Would one person be able to buy the other out or would the property need to be put up for sale? Would one partner continue to live in the property while the other would need to find new accommodation, and how would you decide on what's fair in terms of mortgage payments?
More than half of Australian couples argue over money, so it's not unusual to have conflicting viewpoints, the trick is to listen and hear each other's viewpoints and be prepared to compromise where you don't see eye to eye.ii
As you work through these conversations, you'll need to crunch some numbers and get some good advice as to the best loan for your circumstances and that's where we come in, so don't hesitate to get in touch.
i https://www.relationships.org.au/what-we-do/research/online-survey/january-2019-finances-and-relationships
ii https://propertyupdate.com.au/heated-conversations-1-in-2-aussie-couples-argue-about-finances/