30 Sep

Dude, are you kids ready for an excellent adventure?

About the author
Jane Slack-Smith has been named one of the Top 10 Property Experts in Australia by Money Magazine, one of the Top 4 Financial Influencers by Qantas and been awarded the Australia's Mortgage Broker of the Year twice.
One thing I've heard over and over again, especially when it comes to any kind of investing is:
"Imagine if you had jumped in early"…
Let's think about it for a second.
What if you could go back in time and buy Apple stocks when it first went public, on December 12, 1980, at a price of $22.00, (or about $0.10 when adjusting for stock splits…)
Apple's current stock price at market close on September 9, 2020 was $117.32. If you'd purchased $1,000 of Apple stock at its initial public offering (IPO), that investment would currently be worth about $1,159,000 as of September 9, 2020.
A 115,900% total return for Apple!
But what if you invested in Nokia, back in 2000, when it was rising fast and dominating the market? Or in Blackberry shares back in 2005?
You get the point. And complete disclosure on my part…I don't 'get' shares. (See the PS below for my latest and first share adventure).
So what about property?
What if you could go back in a time machine and buy a property in Melbourne in 1980, when the median price was $39,500? (currently it is $864,000)… would you do it?
"What if…"
"What if…"
Those magical words…
What if you could have a phone booth that could take you through time in your own excellent adventure? Wouldn't that be just awesome, dude?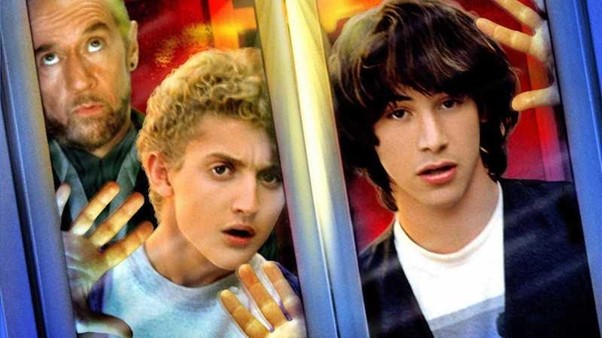 But jokes aside – and also leaving my beloved 80's movie reference behind, there's something similar to a magical futuristic phone booth that you can use now…
And it's the science of suburb prediction.
You see, when done right, the future is bright.
As parents many of us worry that our kids will never be able to afford their own home, let alone an investment property. For many of us our home has been our biggest source of wealth, so we know the value of this type of investment.
As a mum, I always want the best for my child.
I know there are many things we do as parents to help our children have a better life, to help them build their future.
We try to give them the best education possible, we try to give them a 'leg up', we try to lead by example, because sometimes just being a good human is the best we can do.
But often we are leaving their financial future to chance.
Hoping they get paid so they can afford the lifestyle they desire.
Hoping they find happiness and can enjoy time with their families.
Hoping, hoping, hoping.
Hoping they get afford a home, have financial security.
The world is evolving faster than ever before, jobs and skills that were relevant last year, are virtually redundant now. For those with kids in school now, think about this, the jobs they will end up doing, do not even exist yet.
So, what if we could set our kids for a brighter future?
What if we can get them onto the property ladder sooner.
What if they could take advantage of the current confusion in the market, and even give them some financial support, maybe even bringing some of their inheritance forward?
What if, by doing so, they didn't have to wait until they're 65+ to retire?
This could be their "What if" moment?
20 years from now, they could be looking back at this time wishing they had a time travelling phone booth and explored every opportunity they could to invest now.
Maybe there is an opportunity for them have a bite on a juicy apple, instead of choking with a blackberry…
I think the future is bright. I think for those who are ready, that the opportunities in the property market now are fantastic.
In the last year I have been working with a number of parents and kid duos in my mentoring program. Maybe the time is right for you to consider giving your child a helping hand and going on this journey together.
If you are interested in exploring working 1:1 with me and a small group of like minded people in the next 12 months, then check out the details here, or reply to this email.
What if this is your time to act?
PS Earlier this year my son sold up his entire Lego 'portfolio' and made $1200. He was allowed to spend 15% on himself (he bought a skateboard) and the rest we were going to learn together how to invest in shares.
We decided to buy 3 shares. We discussed what would drive the growth of share value (this was March) and decided to buy an online finance company and a health service provider.
Then for the final selection my son wanted to use a random generator to come up with his share selection.
Seriously! I have to admit I thought I had been leading by example with the due diligence I put into researching property, so this 'strategy' hurt.
Well it turns out you have to buy a minimum of $500 batches of shares (see I told you I have no idea) and I convinced him to let his European GPS imaging company with Government contracts to be the one we get rid of. Subsequently the owner of Kathmandu purchased $$$ in the same company, and I haven't heard the end of it.
Let's face it investing in something you don't understand or research properly can be risky, and sometimes throwing the dart against the wall can work.. but most likely not.
Jane
PS If you would like to checkout helpful information then you might find the following useful.
Borrow My Brain Series. Sometimes you just need a second set of eyes over a property purchase. In this series I talk to investors and first home buyers looking for some help. https://www.janeslacksmith.com.au/borrowmybrain
Your Home is Your Gold Mine. This series was completed for Australian Women's Weekly. It shows how your home can be the cornerstone of your wealth https://yourpropertysuccess.com.au/goldmine/
Are  you a first home buyer who is wondering if now is the time to buy? Check out all the resources including the First Home Buyers Show here http://firsthousebuyer.com.au/
For a collection of all our my courses, podcasts, series and more you can find it all here www.janeslacksmith.com.au