04 Nov

Finance your dream home with a construction loan

About the author
Jane Slack-Smith has been named one of the Top 10 Property Experts in Australia by Money Magazine, one of the Top 4 Financial Influencers by Qantas and been awarded the Australia's Mortgage Broker of the Year twice.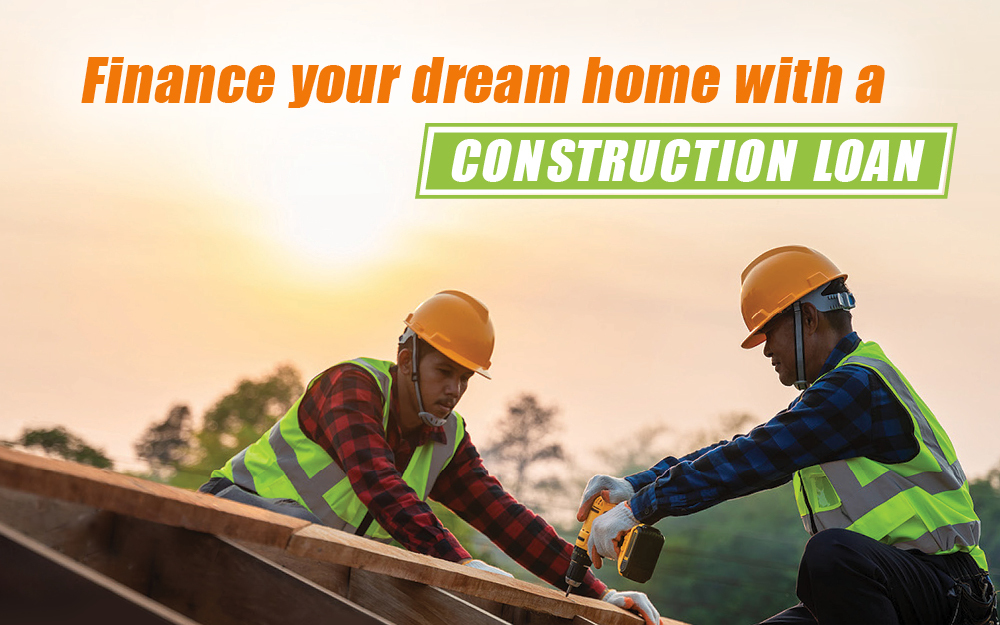 Building your own home is a dream for many of us. And with the current low interest rates and government incentives available, it's great that more and more of us are doing it.i Here's what you need to know about financing your own dream build with a construction loan.
A construction loan finances the building of a new home or the renovation of an existing one. It works by releasing funds to pay for each completed stage of the build – often on interest only repayments. Say your build costs $500,000. When the first stage is done, you draw down $90,000 to pay for the completed work. The good news is that you're minimising your monthly repayments during the build and once the build is finished, your loan changes to a regular property loan.
The loan process
Construction loans are more complex than regular home loans, and unfortunately, so is the paperwork. We can help you collect all the information you need to get your loan up and running. Your licensed builder or architect will also know exactly what's needed for each drawdown stage.
Applying for conditional pre-approval is very important as it lets you know how much your total spend can be. This influences the builder, design and materials you choose.
As with any loan, the amount you can borrow depends on many factors. In general, construction loans allow you to borrow up to 95% Loan to Value Ratio (LVR) and have variable interest rates. The lender takes into account your income, living expenses, existing equity, as well as the interest rate. We also need to submit your building plans, detailed budget and schedule, and your builder's license for checking.
The lender uses a specialist assessor to work out the value of the finished property and if the budget is realistic. This determines the size of the loan you're offered.
You may also need to submit the following documents before the agreed loan can be activated:
A copy of the signed, industry-standard fixed-price building contract and agreed progress payment schedule.
A copy of the final architectural plans, specifications and any permits needed.
A receipt for any deposit paid to the builder or suppliers.
The builder's bank account details for direct credit of progress payments.
Insurance including Builder's All Risk, Domestic/Home Warranty and Public Liability.
You may need to amend the plans, budget or contract details between yourself, your lender and your builder. We can take the pressure off you by helping with some of these negotiations as well as organising the actual loan.
The building process
Progress payments are sent to the builder as each stage is completed and signed off by the lender. This involves an inspection and re-valuation of the project. There are usually five sign-off stages for a new build:
Slab down – This covers preparing the ground, plumbing and waterproofing.
Frame up – This is for the framing, including trusses, windows, roofing and some brickwork.
Lockup – This is when the building is lockable. It generally includes brickwork and insulation, external doors, walls and windows.
Fit out – This covers inside installation of plumbing, electrics, fittings and fixtures.
Completion – This involves finishing the walls and ceilings, painting, fitting electrical appliances and the final clean. Depending on your project, sign-off stages for a renovation may differ from these.
If at any stage your building costs go over budget or time, we can negotiate with the lender. They might agree to increase your loan, but you need to apply before doing the work.
Whether it's a new home, a renovation or investment property you want to build, as your mortgage broker, we can help smooth the process by making sure you have all the documentation the lender needs.
So please feel free to call or come in for a chat about your dream build project, as well as any government grants that may be available to you.
i https://www.abs.gov.au/statistics/economy/finance/lending-indicators/aug-2021