06 May

Financially planning parenthood

About the author
Jane Slack-Smith has been named one of the Top 10 Property Experts in Australia by Money Magazine, one of the Top 4 Financial Influencers by Qantas and been awarded the Australia's Mortgage Broker of the Year twice.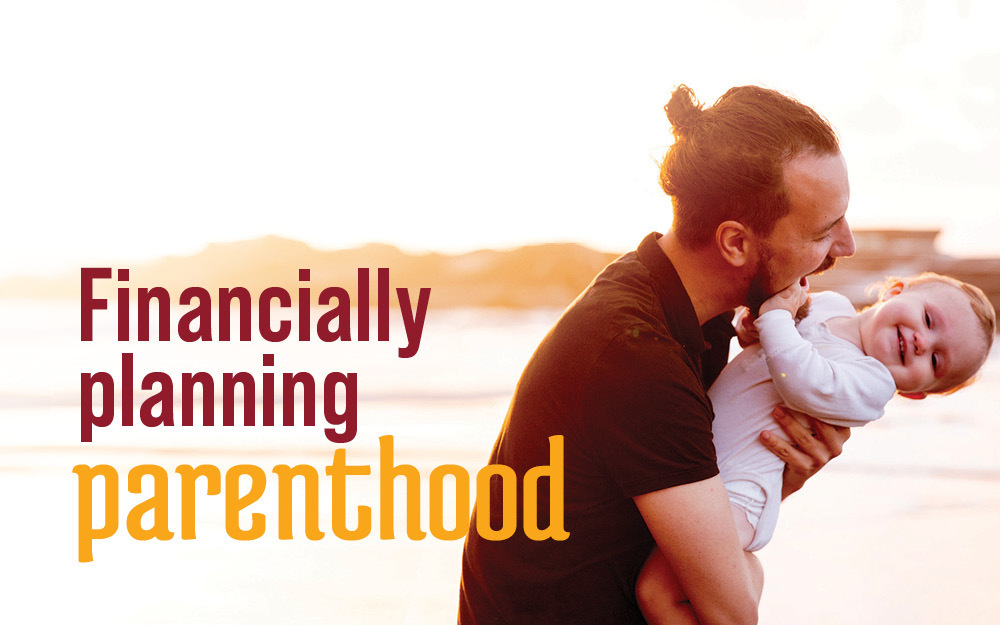 Parents often refer to their children as their 'pride and joy' and there is no doubt that becoming a parent can be a profound, life changing experience, which is just as well because the cost of raising a child is often greater than expected – at every step of the way.
A recent survey by CUA found that three quarters of parents underestimated the cost of raising their first child which it estimates as $10,000 in the first 12 months alone.i
But the costs don't stop there.
Budgeting for the bundle of joy
Just having a baby can be expensive. Even with private health cover, it is estimated that out of pocket expenses can be up to up to $7300 for a private delivery, while the public health system, is free.ii
The CUA survey found the costs that surprised parents the most were baby essentials, childcare, loss of income, food and formula, increased household bills, health care, clothing, a bigger car, increased health insurance costs and the need for a larger house.
As always, planning ahead to manage your expenses will put your family in good stead. A good general rule is to have at least six months budgeted expenses for the entire family and ideally 12 months to assist during a time when the household income will most likely be reduced.
Giving them the best start in life
Many parents are keen to support their children in developing new skills, while introducing them to new experiences and hobbies, in order to give them the best start in life. As your child grows, so do the costs. Feeding, clothing and entertaining a socially active teenager is much more expensive than a baby. In fact, the average cost of raising a child between the ages of 5-9 is estimated at $212 per week, rising to $244 per week for a 10-14 year old and $440 per week for a 15-17 year old.iii
Education costs
One of the biggest costs associated with raising kids is education. While childcare can be a major outlay in the early years, the cost of education soars once children reach high school.
It's generally acknowledged that private school fees require a financial sacrifice for many families, however even government schools do have their costs.
A study by Futurity (formerly Australian Scholarship Group) found that 13 years at a government school in a major city will cost $81,823 for each child. This figure jumps to $140,433 for a Catholic school and a hefty $340,882 for an independent school.iv
Whatever your choice of schooling, it's a major financial commitment so a savings plan makes sense. There are various ways to put money aside for education.
You could start saving with a bank account in your child's name. However, you need to be mindful that once the interest on the account hits $417 a year, the tax rate becomes prohibitive at a whopping 66% to 45%, depending on interest earned.v
Opening a savings account in your own name could be a more attractive alternative, but with interest rates currently below 1 per cent your savings would not keep pace with inflation.vi
Investment bonds are another option popular with parents and grandparents saving for a child's education. This is because any earnings are taxed at the company tax rate within the investment. As long as you hold on to the investment for 10 years, you are not liable for personal income tax.
Alternatively, you might look at paying each year's tuition in full in advance and benefitting from any discounts the school may offer. To assist with cashflow with the lump sum payment, there are various avenues you can explore such as advance loans.
Be prepared for the unexpected
Interestingly, the shift to home education during COVID-19 led to greater financial pressure on families with on average an extra $808 per child being spent on educational expenses. This included electronic devices, outside tuition and coaching, additional stationery and additional textbooks.
While raising children is likely to be one of the most joyful and satisfying things you can do, it's also expensive. It's never too late (or too early!) to look at your financial situation and put a plan in place to not only give your children the best possible start in life but also provide ongoing support as they grow.