01 Jul

Furry friends and your finances

About the author
Jane Slack-Smith has been named one of the Top 10 Property Experts in Australia by Money Magazine, one of the Top 4 Financial Influencers by Qantas and been awarded the Australia's Mortgage Broker of the Year twice.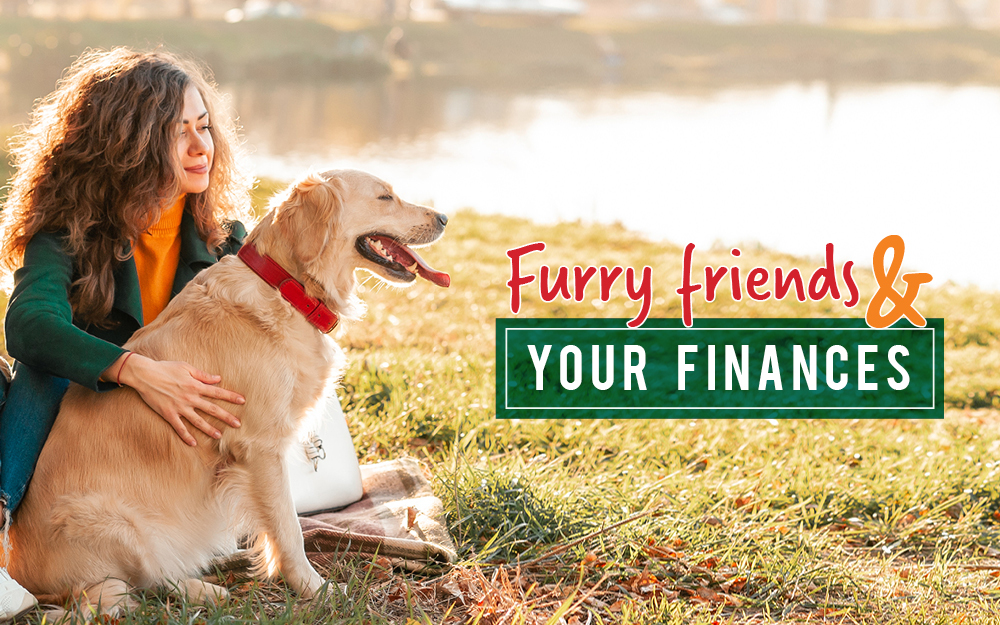 For those who enjoy the company of a furry friend, 2020 was the year of the pet. Animal shelters and breeders reported a surge in interest in pet ownership as many of us found we suddenly had enough time on our hands to welcome a pet into the family.
In fact, between 2 March and 19 April last year, PetRescue saw 12,534 adoptions which was more than double the usual amount.i
There has also been an increase in the amount we are spending on pet products and care. As a nation, we currently spend $12.2 billion a year on pet-related products and services – up 42% since 2013.ii
The costs are not unsubstantial, the average pet owner will fork out between $3,000 and $6,000 in the first year and then around $1,000 every year after that.iii That sounds like a lot, until you start writing it all down. The first cost is actually purchasing or paying the adoption fee for the pet. Then there's microchipping, council rego, multiple vet costs, accessories, and training.
Many people only consider food when planning their ongoing pet budget, but in truth, it can be just a small portion of the annual bill. Ongoing costs can include things like food, litter, treats, grooming, walking and boarding when you go away on holiday.
How much?
While the kind of pets we own encompasses a full menagerie of birds, fish, reptiles, rabbits, and rodents, our most popular pets are predictably dogs and cats. Almost two in five of us owns a dog, with around three in 10 households having a cat as a pet.iv
As well as being the most popular, dogs and cats are also the most expensive pets to keep (see table below).
The yearly cost of keeping a pet
| Pet | Cost p.a. |
| --- | --- |
| Dog | $1,627 |
| Cat | $1,029 |
| Rabbits | $600 |
| Birds | $115 |
| Fish | $50 |
Source: AMA Report, Pet Ownership in Australia
Looking after their health
Keeping your pets in good health is an essential, but sometimes significant, expense. Many breeds have common health problems that may require surgery or medical intervention that can cost several thousand dollars to resolve. A hip replacement can cost $6,000. Canine cancer treatment may cost $10,000-$20,000, once diagnostics, surgery, chemotherapy and follow-up care are factored in.v
Growing uptake rates show Aussies are increasingly using pet insurance to mitigate unexpected vet bills.vi Insurance is available for accidents only, accidents and illness, or all vet bills including routine care. The monthly premium can vary depending on variables like breed and age.
If you decide that you don't want to take up insurance it's important to make sure that you can manage to cover unforeseen medical emergencies.
Keeping costs down
There are many ways you can keep costs down when it comes to pet ownership. Buying quality pet food in bulk can save on costs and keeping your pet healthy and within an appropriate weight range can save on vet bills down the track.
While it's understandable to want to spoil your furry friend, you don't need to buy fancy toys for them. Dogs love a disposable water bottle filled with kibble and cats are equally entertained by an empty box or piece for string as an expensive toy.
Worth the expense
All in all, any loving pet owner would agree – having a pet is well worth the cost. They can provide unconditional love and affection, endless entertainment, life lessons for kids in taking on the responsibility of caring for an animal, as well as a great reason to exercise.
We all want to give our furry friends a full and happy life so it's important to make some room in your budget for both the ongoing and unexpected costs of looking after the non-human members of the family.
i https://www.finder.com.au/2020-year-of-the-pet
ii https://www.abc.net.au/news/2017-06-27/australians-are-spending-up-big-on-pet-ownership/8651270
iii https://www.savings.com.au/savings-accounts/how-much-does-a-dog-or-cat-cost
iv https://kb.rspca.org.au/knowledge-base/how-many-pets-are-there-in-australia/
v http://www.smh.com.au/environment/animals/top-treatment-for-pet-patients-20120913-25uwe.html
vi http://www.ibisworld.com.au/industry/default.aspx?indid=623