05 Aug

House hunt with confidence with a pre-approval

About the author
Jane Slack-Smith has been named one of the Top 10 Property Experts in Australia by Money Magazine, one of the Top 4 Financial Influencers by Qantas and been awarded the Australia's Mortgage Broker of the Year twice.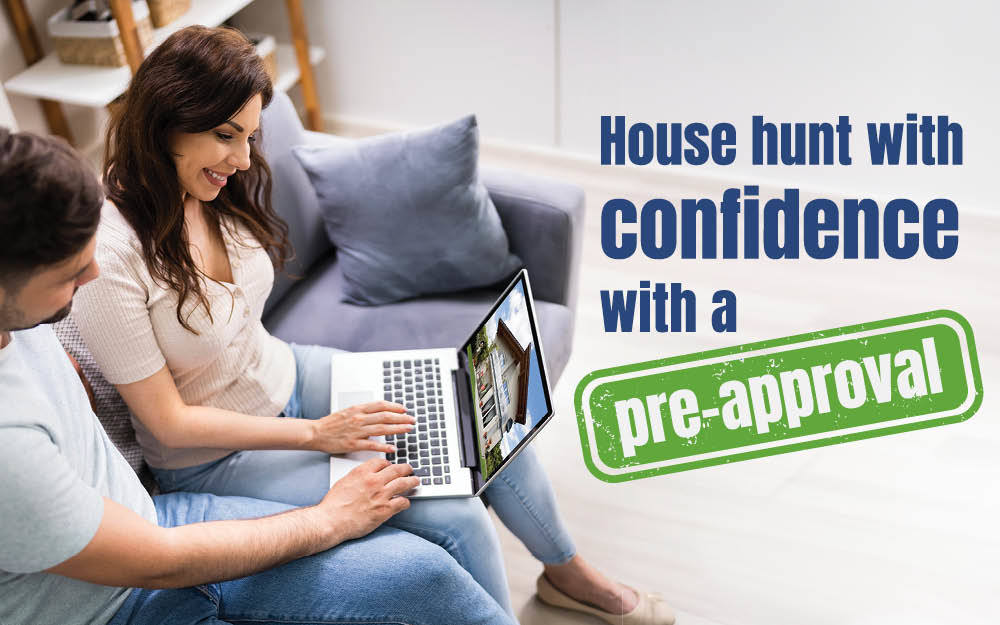 In today's fast-moving property market, it is particularly important that you're as organised as possible before you start seriously looking for your next home. While it's easy to get caught up in the house-hunting process, you'll need to know your budget and more importantly, how much lenders will be comfortable lending you, when the time comes to put in an offer.
A mortgage pre-approval does all of this, and yet a recent survey shows a whopping 54 per cent of buyers missed out on a property because they didn't have their pre-approval in place.i Here's how to ensure you've got your pre-approval lined up, so you are ready to pounce when that perfect property comes along.
WHAT IS PRE-APPROVAL AND WHY IS IT SO IMPORTANT?
A pre-approval is generally your first step in the home loan application process. Having a mortgage pre-approval lets you focus your house hunting on the properties you can afford and also shows real estate agents that you're a serious buyer who has started the loan process with a specific lender.
It is not a guarantee that your application will be approved but it does tell you how much you can borrow and what your repayments would be. It also reassures sellers that your finance will likely be approved sooner rather than later.
CONDITIONAL PRE-APPROVALS AND YOUR CREDIT SCORE
Conditional pre-approvals are a common type of pre-approval that can be done online by you or your mortgage broker, usually without the lender charging a fee. A conditional pre-approval can often be granted within a few hours. However, because your credit report and financial documents have not been fully assessed, it does come with conditions.
A conditional pre-approval doesn't register as a request for a loan on your credit score. After you have made an offer on a property, the lender will do a full credit check that does leave a loan request on your file. Having multiple requests in quick succession with multiple lenders can be interpreted as financial instability, lowering your credit rating. This is why it's so important to choose your lender carefully. We can help select a lender and loan that best suit your circumstances.
KNOW YOUR PRE-APPROVAL CONDITIONS
Understanding how your pre-approval works mean you won't be caught out by having an out-of-date, or invalid loan application. This can leave you scrambling around for a new mortgage, harming your credit rating and missing out on that home you had your heart set on. Here are the conditions you need to keep in mind:
Expiry date
For most lenders, pre-approvals are valid for three to six months. It's important to be aware of your lender's time frame and what will happen if you don't find a property within it. Speak to us if the house-hunting process is taking longer than expected and we may be able to negotiate an extension for you.
Property assessment
One pre-approval condition often included is a satisfactory valuation, which confirms the property is valued correctly and has no major defects.
Certain types of properties may not be acceptable to a lender. These can include very small apartments, properties in poor repair, specific apartment blocks, certain suburbs with fluctuating property prices, flood or fire insurance risks or properties with large power lines close by.
Changes to your circumstances
If your personal or financial situation changes after you're pre-approved, the lender will reassess your application. The most common changes are to your work situation, any new or undisclosed expenses, a reduction in your deposit, changes to government incentives or regulations and having a child.
A change in your circumstances doesn't automatically mean your pre-approval is cancelled. However, you still want to be as upfront with your lender as soon as possible. It's always better to fix these things in the pre-approval stage rather than later on.
Showing sellers that you have a lender waiting to proceed to full approval could give you a big advantage against other buyers. It allows you to quickly make an offer or bid at an auction with confidence.
Speak to us today to get the ball rolling, so you can start house hunting with confidence!
i Property Possibilities: Buyers' Outlook Report, Aussie and Lonergan Research
https://www.aussie.com.au/content/dam/aussie/documents/news/aussie-property-buyers-report-may-2021.pdf