01 Jul

Investing in property with a limited deposit

About the author
Jane Slack-Smith has been named one of the Top 10 Property Experts in Australia by Money Magazine, one of the Top 4 Financial Influencers by Qantas and been awarded the Australia's Mortgage Broker of the Year twice.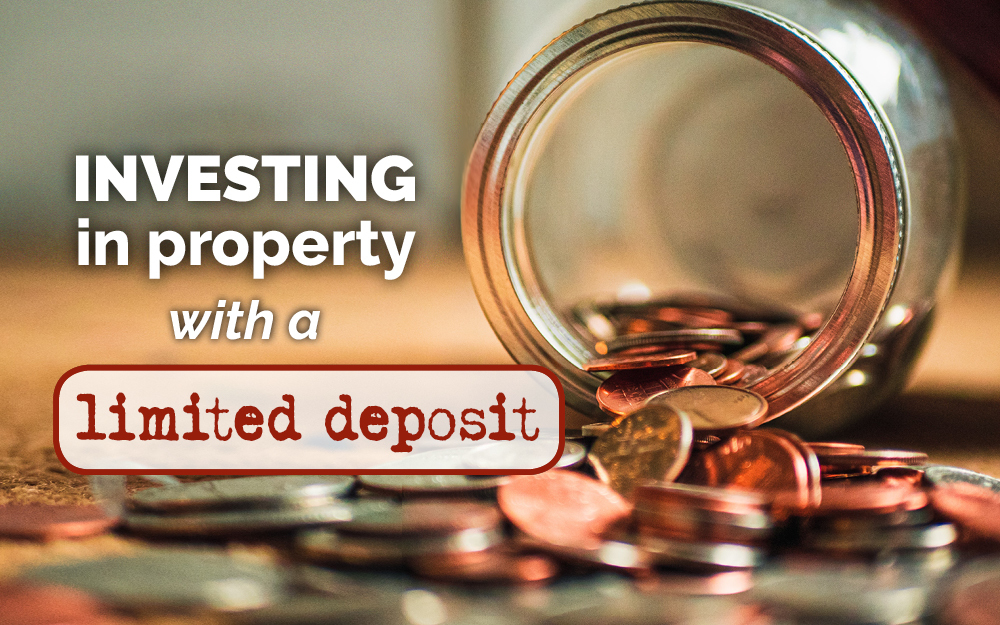 The Australian property market is a national obsession. It's a popular topic around the barbeque, with bricks and mortar remaining one of our best loved investments. It's little wonder, given the potential for providing a solid ongoing rental income and recent rises in property prices providing some optimism as to capital appreciation when it comes time to sell.
However, the rising prices that make property investment seem so attractive also mean it can be increasingly difficult to raise the deposit needed to invest. So let's look at some ways to buy an investment property with a small deposit or even none at all.
Use equity in another property
If you already have a property, you can use the equity you have in it towards a deposit for another property.
Equity can be calculated by finding the difference between the current value of your property and the amount you still owe on it. Lenders have a basic formula they use to work out how much of your equity they will allow you to access. The maximum lending value is usually 80% of the existing property's value. Say you have a property valued at $1,000,000 and you still owe $300,000 on it. Your equity is $700,000 and the 80 per cent borrowing rule means you can only draw on a maximum of $500,000.
This formula is a guide only and lenders look at many other factors when deciding to re-mortgage a property for investment purposes. It's always best to talk to us about your particular circumstances and your ability to service the loan.
Choose a low deposit loan
Many lenders offer low deposit loans for investment properties. Lenders take into account the expected rental returns and your own repayment potential when calculating how much they will lend. But remember, if your deposit is under 20%, you will likely have to pay Lenders' Mortgage Insurance (LMI) on top of your repayments.
Ask your family to act as guarantor
If your family is in a position to help, you could consider a family guarantee loan.
This is a situation where a relative (preferably a parent, grandparent or sibling), provides additional security for your home loan. Most commonly, equity in your guarantor's property is used as security for part of your loan. While no money changes hands, this will allow you to top up your deposit, and avoid paying LMI fees.
These arrangements should not be entered into lightly. In the unfortunate event you are unable to make your repayments, your guarantor will have the responsibility of paying back their secured portion of the loan, even if this means selling their home. It is important to demonstrate that you understand the risks you're asking your family to take for you. We can help explain the obligations for both you and your potential guarantor.
Invest with a friend
If you don't have enough to buy a property on your own, why not invest with a friend or family member? Combining your savings will increase the deposit you can put down. This could mean avoiding LMI costs or buying a more expensive property.
There's also the benefit of splitting repayments, repairs and fees. Of course, splitting costs also means splitting profits and any tax deductions.
We strongly advise getting a detailed agreement drawn up if you go down this route to ensure the partnership and obligations are clear from the onset.
Using your SMSF
If you have a self-managed super fund (SMSF), you may consider buying the investment property through your fund. Keep in mind there are very strict rules you need to be aware of.
Essentially, the only purpose of the property is to provide retirement benefits to the SMSF members. The property cannot be acquired from a fund member or a close associate, and fund member or their associates cannot live in or rent the property.
The rules around commercial premises, are slightly different. In all cases, you need to check that you're fully complying with SMSF law before you buy. The government's Moneysmart website has useful information.
Examining your financing options can seem daunting. So please get in touch if you'd like to talk through which might suit your circumstances and investment goals.