06 May

Keeping your cool in a hot market

About the author
Jane Slack-Smith has been named one of the Top 10 Property Experts in Australia by Money Magazine, one of the Top 4 Financial Influencers by Qantas and been awarded the Australia's Mortgage Broker of the Year twice.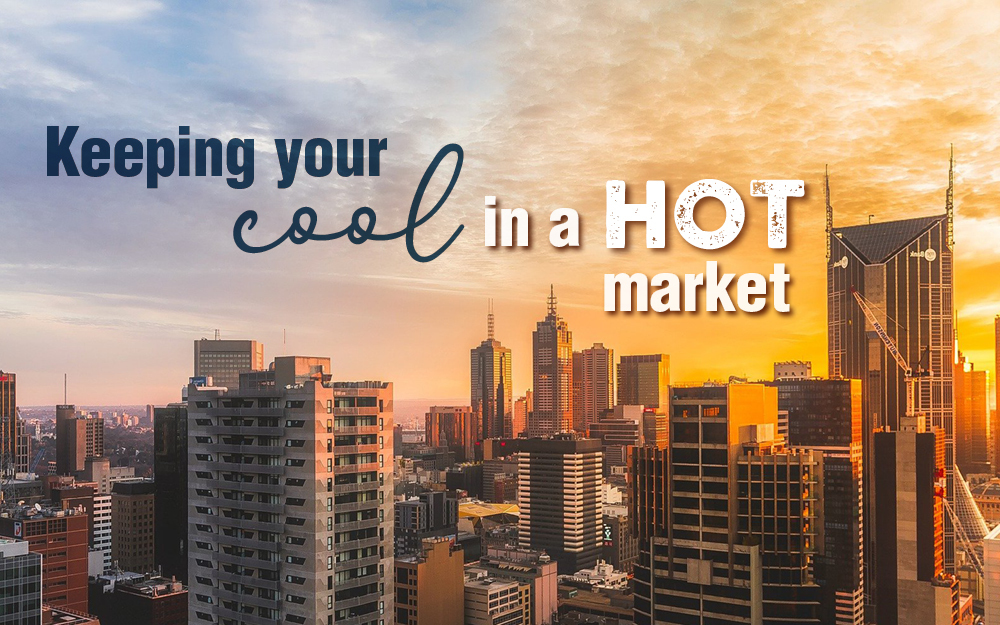 After reeling from the impact of COVID-19 lockdowns in 2020, property values throughout Australia have strongly rebounded, rising at their fastest pace in 32 years. These exceptionally strong conditions are now being seen across all major capital cities, following the trend set by regional areas during the latter half of 2020.i
If you are in the market to buy property in the near future, no matter where you are looking in Australia, you are likely facing a market that favours the seller over the buyer, under quite competitive conditions. So, let's look at the measures you can take to buy well and keep your cool under the current conditions.
Do your homework
It's a good idea to be very familiar with the areas you are looking at buying in and physically inspect as many properties as possible, both so that you get a sense of your 'must haves' and 'nice to haves' and so that you can keep your finger on the pulse and know what represents good value in your preferred suburbs.
Be prepared to act fast!
If you have found a property that meets your criteria, try to view it as soon as possible by making an appointment with the agent, rather than waiting for open for inspections.
It's also important to be prepared for a purchase and make sure you can respond quickly if a property ticks all (or even most of!) the boxes. Ensure you are familiar with the process of buying property and your rights and obligations as a buyer. Line up the necessary assistance you need including selecting a solicitor, as well as touching base with the relevant contacts for building or pest inspections so that you can call on them as required.
Buy with your head – not your heart
It's important to keep your emotions in check and not make rash decisions just because the market is strong. Due diligence remains vital during the home buying process, speeding things up and acting rashly can end up costing you much more down the track.
The fact that you've missed out on properties you are keen on, does not need to be the reason you lower your standards drastically and make significant sacrifices in order to get a foothold in the market. Although it is important to be realistic about what you can and can't afford and maintain a longer-term view in terms of your property purchase.
Strategies for success
In a seller's market you should assume you are competing against other offers. One way of getting an edge on the competition is to be flexible when it comes to settlement. It's worth asking the seller if they need a shorter or longer settlement and if you are able to meet their needs in this area, it may give you an advantage over other bidders.
Pre-auction offers need careful consideration. Making an offer prior to an auction can work in your favour by enticing the seller and you may pick up the property for less than it would sell at auction. Equally, a prior offer may work against you by reinforcing to the seller that the property is highly sought after, encouraging them to 'hold out' for the auction.
Finance pre-approval
And last but certainly not least, having your finance pre-approved will help you to jump in when you need to and also to know your budget and what you can afford. Being pre-approved by a mortgage lender is a great way to show sellers that you're not only serious about buying, but that you have the funds for the purchase ready to go.
We can help you review your finances, budget and repayments and get you sorted with the best loan for your circumstances so you are set for success in a competitive market.
i https://www.corelogic.com.au/sites/default/files/2021-03/210401_CoreLogic_HVI.pdf