30 Sep

Macauley Culkin just dosen't play fair..

About the author
Jane Slack-Smith has been named one of the Top 10 Property Experts in Australia by Money Magazine, one of the Top 4 Financial Influencers by Qantas and been awarded the Australia's Mortgage Broker of the Year twice.
We Melburnians were supposed to be celebrating a return to stage 3, however we are stuck at home a little bit longer…
It's been so many months of this "new normal", that I can't even remember the last time I was "home alone" …
However, as you may have noticed from my previous emails, this time has allowed me to reconnect with one of my guilty pleasures… 80's and 90's movies.
Speaking of which, I was wondering the other day about Macaulay Culkin from "Home Alone" … and found this: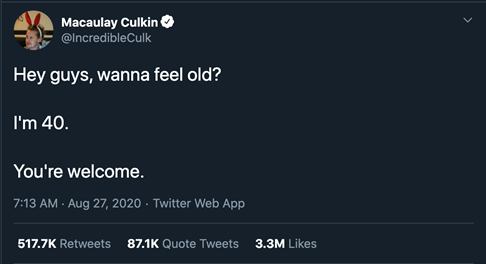 Ok… I'm speechless…
I know it's not a surprise that time flies… but c'mon!!
Especially 2020… I feel like we went from March to September in a blink of an eye.
And the hardest part is that for many people, their homes have become their prisons…
Hopefully, everything will get better soon.
But in the meanwhile, what if I tell you that, just like little Kevin found out, your home is also full of surprises?
And no, I'm not talking about setting traps to catch burglars…
If you own a home or plan to own a home in the future, there are a few strategies you can apply to turn your home into your very own gold mine… the only prerequisite is maybe to be able to get creative and think outside the box…
Which reminded me of a series I created when I was the guest property and finance expert for Australian Women's Weekly Magazine back in 2013, called "Your Home is Your Gold Mine". I know talk about blast from the past, but the messages are tried and true and just as relevant today!
Something I have found over the years of working with my clients at Investors Choice Mortgages is that people often miss out on looking at their biggest investment, their home, and putting the due diligence into selecting the right property in the right area.
So, what I wanted to do with this short video series is to bring you some techniques, tools and information to get you thinking about maybe renovating your current home, or maybe where to look for for the next time – when you're considering where to buy next.
Your home is your biggest asset. It's up to you to actually put it to work for you.
I hope you enjoy the videos if you know of someone who is thinking of buying their next home or even their first home please forward this to them.
Jane
PS If you would like to checkout helpful information then you might find the following useful.
Borrow My Brain Series. Sometimes you just need a second set of eyes over a property purchase. In this series I talk to investors and first home buyers looking for some help. https://www.janeslacksmith.com.au/borrowmybrain
Your Home is Your Gold Mine. This series was completed for Australian Women's Weekly. It shows how your home can be the cornerstone of your wealth https://yourpropertysuccess.com.au/goldmine/
Are  you a first home buyer who is wondering if now is the time to buy? Check out all the resources including the First Home Buyers Show here http://firsthousebuyer.com.au/
For a collection of all our my courses, podcasts, series and more you can find it all here www.janeslacksmith.com.au