02 Dec

Quarterly property update – December 2021

About the author
Jane Slack-Smith has been named one of the Top 10 Property Experts in Australia by Money Magazine, one of the Top 4 Financial Influencers by Qantas and been awarded the Australia's Mortgage Broker of the Year twice.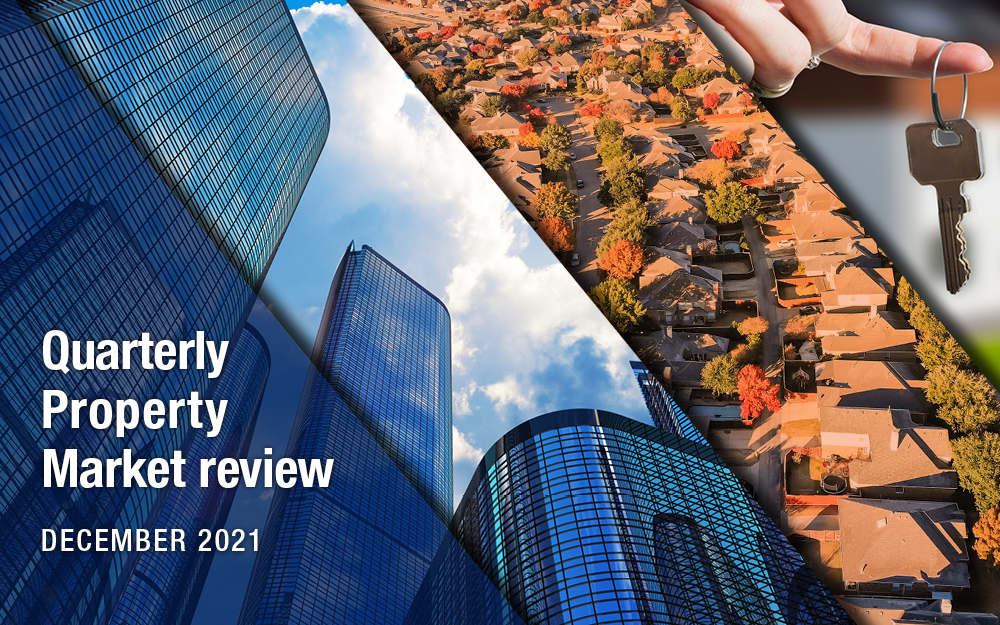 Hot property market sizzles into summer
Metropolitan housing markets experienced yet another quarter of bumper price growth, however the regions are giving the cities a run for their money.
According to CoreLogic figures for the three months to November 30, the combined capital city dwelling median had increased by 4 per cent to $783,557 while the combined regional median jumped 5.9 per cent to $527,322.
Two major housing data groups have released their regional reports, both confirming what most of us already know – Australia's escape to the country continues. While few property punters are surprised by statistics showing a regional boom, what's of real interest to homebuyers and investors is why the phenomenon began, and whether it will continue.
Commutable regions are in demand
PropTrack senior economist and author of realestate.com.au's latest PropTrack Regional Australia Report, Eleanor Creagh, sited the pandemic-driven demand for space and a change of scene as the catalyst behind the regional price surge of almost 30 per cent – the fastest annual jump in at least 35 years.i
It appears many 'city skippers' have sought out regions that remain on the outskirts of metropolitan areas, within a one to two-hour commuting distance of major capitals. As a result, regional centres are seeing rapid population growth with an unparalleled flow of people out of major cities – especially Sydney and Melbourne.
Perfect storm for a regional boom
In CoreLogic's Regional Market Update research director at CoreLogic, Tim Lawless, agreed the key drivers pushing up region prices was the population shift, coupled with low interest rates, higher household savings and more affordable housing outside the booming cities. But that might be reaching a tipping point.ii
Once again Queensland proved to be hot property, as houses on the Gold Coast were the quickest to sell with a median time on market of just 18 days.
"This mismatch between available supply and demand has created a heightened level of urgency amongst buyers, generating strong selling conditions where homes are snapped up quickly with minimal levels of negotiation."
This flurry of activity, however, could soon hit an affordability tipping point, Mr Lawless said. "If housing values across regional parts of the country continue to outpace the capitals, the obvious outcome will be that regional markets lose their affordability advantage."
City snapshots
Although the regions are experiencing exceptional growth, that doesn't mean the cities are lagging behind. Based on median values, capital city houses are so highly sought after they're now 37.9 per cent more expensive than units – the largest difference CoreLogic has ever recorded. In dollar terms, this divide means a capital city house is about $240,500 more than a unit.
Melbourne
The Victorian capital experienced a 2.4 per cent change in dwelling values over the quarter, taking the median to $788,484. Supply issues moving in the buyer's favour in Melbourne with November's stock levels 7.9 per cent above the five year average.
Sydney
Australia's priciest city has maintained its crown with a 4.3 per cent quarterly rise in dwelling values to a median of $1.09 million. Stock levels are still tight in the Harbour city with local listings sitting -2.6 per cent below the five-year average.
Brisbane
After recording the fastest pace of growth among capital cities, Brisbane (alongside Adelaide) is yet to experience the moderate slowdown seen in the other cities. Brisbane's quarterly gain was 7.4 per cent to a median of $662,199. Supply in the capital is -33.9 per cent lower than the five year average.
Canberra
Our nation's capital is now the second most expensive city in Australia with a median dwelling value of $882,519 after a 5 per cent rise this quarter.
Perth
The West Australian capital has had a humble quarter of price movement with a dwelling change of just 0.4 per cent to a median of $528,540.
To find out how you can make the most of current market conditions, contact us today.
i PropTrack Regional Australia Report
ii CoreLogic's Regional Market Update
Note: all figures in the city snapshots are sourced from: CoreLogic's national Home Value Index (December, 2021)