08 Sep

Quarterly property update – September 2021

About the author
Jane Slack-Smith has been named one of the Top 10 Property Experts in Australia by Money Magazine, one of the Top 4 Financial Influencers by Qantas and been awarded the Australia's Mortgage Broker of the Year twice.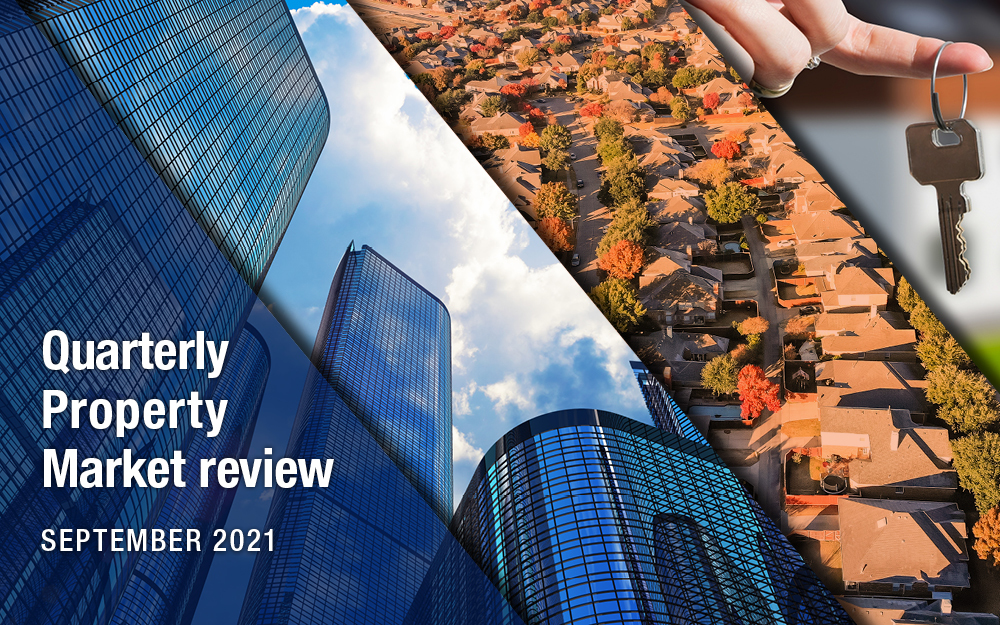 Lockdowns do little to dampen demand as spring begins
In any other year, September 1 marks a significant day on the national property calendar but as we all know by now, 2021 is anything but typical.
The spring selling season is usually a time when real estate activity ramps up while new listings launch, auction action takes off and buyers are spoilt for choice.
This year, however, is a different story after millions of Australians have spent the majority of the last quarter in some form of lockdown, or with social restrictions in place. Depending on the state or territory, people have had varying levels of liberty when it comes to house hunting, so the show has still been able to go on. But the continued limitations have spooked many sellers.
SQM Research announced national residential property listings fell in August by -9.6 per cent. When comparing year on year data, listings had dropped by -26.3 per cent. The figures represented the lowest count recorded by SQM Research since its series began in January 2010.i
Despite this dramatic downturn of homes coming onto the market, national property portal realestate.com.au claimed demand is proving to be at an all-time high. According to the REA Insights Housing Market Indicators Report for August, search activity on realestate.com.au remained strong. The number of views per listing rose by 4.9 per cent to be 46.1 per cent higher year-on-year.ii
As spring began on September 1, CoreLogic released its August National Home Value Index which shed some light on the trajectory of the Australian housing market. The index revealed that although dwelling values continued to record a broad-based rise of 1.5 per cent nationally in the wake of lockdowns, it was the lowest monthly rise since January.iii
The August increase pushed Australian housing values 15.8 per cent higher over the first eight months of 2021 and 18.4 per cent above levels a year ago – the fastest annual pace of growth in housing values since the year ending July 1989. Over the quarter to August's end, the national dwelling value jumped 5.2 per cent.
CoreLogic's research director, Tim Lawless, suggested the slowing rate of growth likely has more to do with worsening housing affordability than ongoing lockdowns.
"Housing prices have risen almost 11 times faster than wages growth over the past year, creating a more significant barrier to entry for those who don't yet own a home. Lockdowns are having a clear impact on consumer sentiment, however, to date the restrictions have resulted in falling advertised listings and, to a lesser extent, fewer home sales, with less impact on price growth momentum. It's likely the ongoing shortage of properties available for purchase is central to the upwards pressure on housing values," he said.
State of the states
Melbourne
Although the Victorian capital entered its sixth lockdown in the last quarter, the city did still experience an increase in dwelling prices of 4 per cent taking the median home price to $769,968 in the quarter to September.iii
Sydney
Despite being in a continued lockdown since June, Sydney still had a significant rise in housing prices over the three months to August 31. Dwellings were up 6.4 per cent over the quarter to bring the citywide medium to the highest in the country at $1.039 million.iii
Brisbane
The Queensland capital has escaped relatively unscathed by lockdowns when compared to both Sydney and Melbourne and returned a 6.1 per cent increase in dwelling prices for the quarter to reach a median of $612,377.iii
Perth
According to CoreLogic, data collecting for the West Australian city hit a snag for August with the property analysts reporting in the August National Home Value Index, "hedonic indices for Perth and WA have been temporarily withdrawn while we investigate a divergence from other housing market measurements."iii A calculation by SQM Research on total property listings, however, showed a minimal -6.2 per cent annual drop for Perth.i
Canberra
In the nation's capital, which only slipped into lockdown mid-August, housing values experienced the highest metropolitan growth during the last quarter. Values leapt by 7.3 per cent to a median of $816,644.iii
i https://sqmresearch.com.au/31_08_21_Total_Property_Listings_Media%20Release_FINAL.pdf
ii https://www.realestate.com.au/insights/rea-insights-housing-market-indicators-report-august-2021/
iii https://www.corelogic.com.au/sites/default/files/2021-08/210901_CoreLogic_HomeValueIndex_Sep21_FINAL.pdf