01 Jun

Quarterly property update

About the author
Jane Slack-Smith has been named one of the Top 10 Property Experts in Australia by Money Magazine, one of the Top 4 Financial Influencers by Qantas and been awarded the Australia's Mortgage Broker of the Year twice.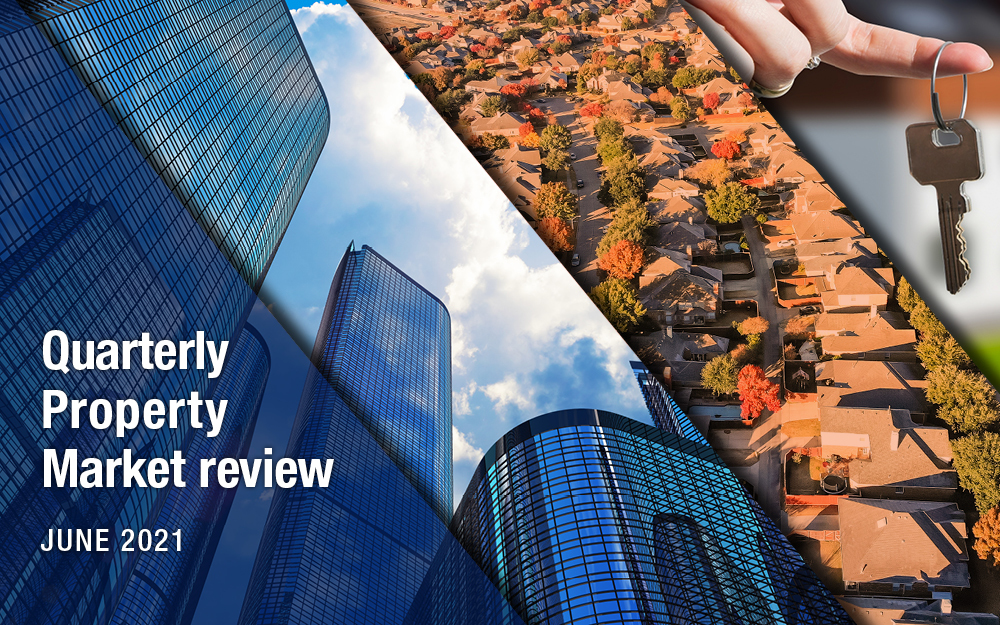 Heated property market heads into winter
After a sizzling hot start to 2021, when rising home prices were clocked at their fastest pace in 32 years, the Australian residential property market is heading into winter still on the boil.
Up until the end of May, housing markets continued to surge with CoreLogic's national Home Value Index up 2.2 per cent over the month.i While the May result was stronger than April's 1.8 per cent rise, it was still weaker than March when dwelling values made their biggest monthly move since October 1988 at 2.8 per cent.
City versus country
Prices across every residential market – city and country – are rising. House and unit values in each capital city were up more than 1 per cent over May and of the 334 statistical sub regions monitored by CoreLogic, 97 per cent had experienced positive price growth during the quarter. Although a post-pandemic escape to the country lead to soaring home prices throughout early 2021, the tide appears to be turning – albeit slightly. For the second time in three months, growth in capital city home values outpaced regional markets. The combined capital city figure was up 2.3 per cent for May against a 2 per cent rise across the combined regions.
Timing is everything
All the right drivers are at play in the current market to keep the tide rising. Historically low interest rates, a healthy economy, extra household savings, and a desire to reevaluate one's work-life balance in the wake of COVID-19, have all come together to create an ongoing demand for housing.
Couple these factors with a lower than average advertised supply of housing, and the perfect storm is perpetuating an upwards pressure on prices.
Buyer types are shifting
Despite strong activity from first-home buyers late last year and into early this year, the end of HomeBuilder in March and rising affordability constraints have seen this buyer type be overtaken by home buyers already on the property ladder and now investors.
Australian Bureau of Statistics data showed that February and March recorded a 4.8 per cent reduction in first-home buyer borrowing, while investor financing was up 17.7 per cent in March compared with January. As a result, the share of financing secured by investors sat at 25.9 per cent, up from 23.1 per cent in January.ii
City snapshots
Sydney
Australia's most populous city, and the rest of NSW, have been home to some of the most extraordinary property price growth throughout the start of 2021. From January to April 2021, Sydney dwelling values have risen 9.3 per cent according to CoreLogic data, and across regional NSW dwelling values were up 9 per cent. Sydney's median dwelling value is now just over $970,000.
Melbourne
Although extended lockdowns impacted Melbourne's inner city unit market, prior to the most recent spike in Victorian cases, the market had bounced back strongly. Dwelling values for the capital were up 5.5 per cent for the quarter to a median of $740,562.
Brisbane
Dwelling values across Queensland are currently 13.7 per cent above their previous record high, partly fuelled by interstate migration to the Sunshine State. Brisbane itself saw a 6.2 per cent increase in dwelling values for the last quarter, taking the current median to $574,572.
Perth
By April, Western Australia had marked its the eighth consecutive month of growth in state dwelling values, and the 19th month in a row of rental increases. For Perth there was a 3.8 per cent rise in dwelling values during the past quarter so that the median reached $521,688.
Canberra
Throughout the start of 2021, ACT's housing market surged to the point of 20 consecutive months of dwelling values reaching record highs, placing the market value 19.1 per cent higher than the previous high in April 2019. After a quarterly rise of 6.5 per cent, Canberra now has a median dwelling value of $746,573.
To find out how you can make the most of 2021's property market conditions, contact us today.
i https://www.corelogic.com.au/news/australias-housing-boom-rolls-national-home-values-lifting-another-22-may
ii https://www.abs.gov.au/statistics/economy/finance/lending-indicators/latest-release
Note: all figures in the city snapshots are sourced from: CoreLogic's national Home Value Index (June 2021)