04 Nov

Raising the bar: How tighter leading criteria will impact you

About the author
Jane Slack-Smith has been named one of the Top 10 Property Experts in Australia by Money Magazine, one of the Top 4 Financial Influencers by Qantas and been awarded the Australia's Mortgage Broker of the Year twice.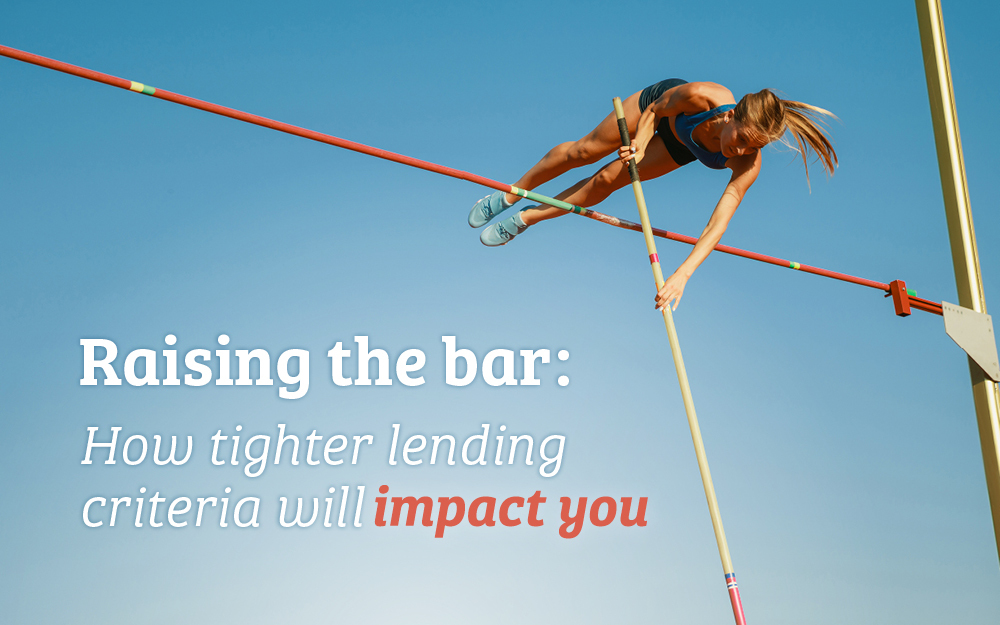 Australia's thriving property market has recovered so swiftly since the brief pandemic-induced recession of 2020, that authorities have stepped in to pull the reigns on runaway real estate prices. As a result, lenders have been asked to tighten serviceability criteria.
Nationally, dwelling values are up 20.3% higher over the past 12 months, every capital city experiencing significant growth across the board. Melbourne, despite ongoing lockdowns dampening the market, still increased by 15%.
That's where the Australian Prudential Regulation Authority (or APRA) comes in. On October 6, it wrote to lenders announcing an increase to the minimum interest rate 'buffer' it requires them to use when assessing the serviceability of home loan applications. APRA told lenders that from November 1, they must assess new borrowers' ability to meet loan repayments at an interest rate at least 3 percentage points above the loan product rate – a 0.5 per cent increase to the previous 2.5 per cent buffer.
Why did APRA do it?
The early October announcement by APRA was a "targeted and judicious action" designed to reinforce the stability of the financial system according to chairman Wayne Byres. "In taking action, APRA is focused on ensuring the financial system remains safe, and that banks are lending to borrowers who can afford the level of debt they are taking on – both today and into the future," he wrote in a letter to lenders.
More than one in five new loans approved in the June quarter were in excess of six times the borrowers' income and APRA's fear has clearly been that housing credit growth will run ahead of household income growth. "With the economy expected to bounce back as lockdowns begin to be lifted around the country, the balance of risks is such that stronger serviceability standards are warranted," Mr Byres said.
What difference will it make to you?
Overall, such a small tweak will probably not make a huge difference to average borrowers who may not have been borrowing at their full capacity anyway. However, for those who are stretching their borrowing budgets to almost the last dollar, such as first-home buyers struggling to meet rising prices, this move could be significant.
Ultimately, APRA has stated that the change will cut the maximum amount available to a typical borrower by approximately 5 per cent.
Borrowers who were previously approved for a $500,000 loan would now be able to borrow $475,000
Anyone with the green light to take out a $1 million mortgage would now be looking at $950,000
The impact this will have on prices or the current sky-high demand throughout most markets is yet to be determined as anyone who obtained a three-month pre-approval towards the very end of October would be under the previous 2.5 per cent serviceability buffer well into the new year. These changes will affect investors and owner occupiers in differing ways.
The changes are likely to have more of an impact on the investment segment of the market, as investor rates are higher than owner occupier mortgage rates. APRA also highlighted in their announcement that investors tend to borrow at higher levels of leverage and often have other existing debts, which would also be subject to the increased serviceability assessment.
What other changes are on the horizon?
Although APRA's recent announcement will unlikely make a huge impact on demand for credit or even push down prices, it may well be a sign of future changes. While the announcement may seem like a subtle change to housing lending conditions, there may be more tightening to come as the level of housing credit and household debt are monitored, the high debt-to-income ratios being a focus.
To find out how the tightened lending criteria will impact your borrowing power, get in touch with us today.