27 Sep

The September Suburb in the Spotlight

About the author
Jane Slack-Smith has been named one of the Top 10 Property Experts in Australia by Money Magazine, one of the Top 4 Financial Influencers by Qantas and been awarded the Australia's Mortgage Broker of the Year twice.
September's Suburb in the Spotlight is…
This month's suburb in the spotlight is….
Wynnum in Queensland
Every month with my Suburb Selector Software I assess over 8500 Capital cities and major regional centres of the 15,655 suburbs in Australia. When I apply just the top level filters of the 20+ filters we assess in Location Masterclass there are less than 350 areas that get through that filter.
The filters I have used this month are:
Buy and Hold, strategy ie rent the property out

Price between $250,000 and $1,200,000

Requires rental demand hence % Renters is over 30%

The typical property is a house

The suburb itself has outperformed the Brisbane average 10yr capital growth – we don't want an area that is a complete outlier

The vacancy rate has to be under 3%
Once I looked at the 320 suburbs that passed that first filter I then looked at additional Factors that would minimise the risk associated with the property purchase, these included: # sales in the last 12 mths, % public housing, then I even used the census mapping tool to get down to streets where they renters want to live.
This month there has been a lot of talk about the Brisbane property market so I chose a suburb that got through all those filters. The next step would be to then go deep on the suburb and complete a detailed analysis on the demographics, the recent sales, the typical size block, what the change in stock on the market is driven by, the same for the drop in days on the market and an analysis of the growth of surrounding suburbs. Below are screenshots from the Suburb Selector Software which allows me to quickly look at the fundamentals of this suburb.
If you are looking for a suburb to buy in remember that this is only the first pass of a suburbs due diligence there are a lot more questions that need answering before this area would make it on my 'hotspot' list.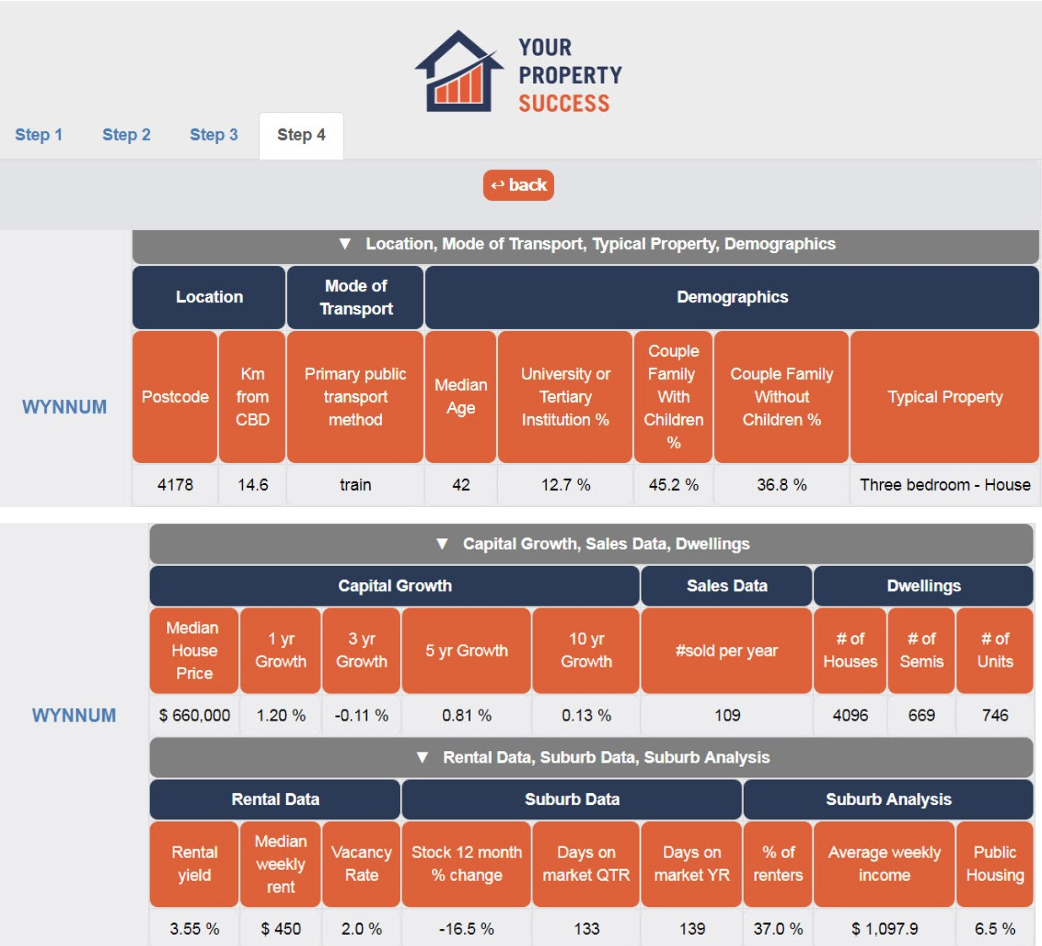 Note it is also possible to find where the renters of houses want to live. You will find my tutorial on how to do this in the Location Masterclass Bonus section.